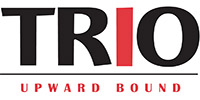 The Upward Bound Program at New Mexico State University is a federally funded, year-round college preparatory program serving eligible high school students from the Alamogordo Public Schools (APS), Gadsden Independent School District (GISD)/Las Cruces Public Schools (LCPS), and Hatch Valley Public Schools (HVPS).
---
Mission
The mission of the NMSU TRIO Upward Bound Program is to assist students to successfully complete their secondary and post-secondary education.
Purpose
The purpose of the Upward Bound (UB) Program is to generate in program participants the skills and motivation necessary to complete a program of secondary education and to enter and succeed in a program of post-secondary education.
Upward Bound provides fundamental support to participants in their preparation for college entrance. The Program provides opportunities for participants to succeed in pre-college performance and ultimately in higher education pursuits. Upward Bound serves high school students from low-income families, and/or high school students from families in which neither parent holds a Bachelor's degree.
Goal
The goal of Upward Bound is to increase the rates at which participants enroll in and graduate from institutions of post-secondary education.
The New Mexico State University TRIO Upward Bound Programs are 100% funded through grants by the U.S. Department of Education under the Higher Education Act of 1965.