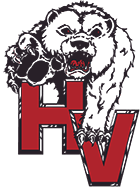 Hatch Valley High School LogoThe Village of Hatch is located in northern Dona Ana County in New Mexico just 37 miles northwest of Las Cruces. It was incorporated with the state of New Mexico in 1928. The population within the village limits is 1,648. The village of Hatch rests at an elevation of 4,058 feet. The Colonias associated with the Village of Hatch include Garfield, Milagro, Placitas, Rincon, Rodey, and Salem.
The Hatch Valley Public Schools district covers an area of 1,125 square miles and is the 42nd largest district in land area of the 89 school districts in New Mexico. HVPS district is located in Doña Ana County in the south-central area of the state. Bordering Districts include Las Cruces, Deming, Truth or Consequences, Tularosa, and Alamogordo. The district's schools are all located in the village of Hatch, except for one elementary school, which is located in the community of Garfield, which is approximately 9.4 miles north of Hatch on State Highway 187 (also known as the historic El Camino Real). The Hatch Public School website is http://www.hatchschools.net/.
Hatch Valley High School is located within the Village of Hatch limits. It serves the Village of Hatch and the rural surrounding farming communities of Arrey, Garfield, and Derry. Hatch Valley High School provides services to approximately 385 students in grades 9 to 12. Over 90% of the student body at Hatch Valley High is identified as Hispanic and Economically Disadvantaged.
Objectives
In 2017, New Mexico State University was awarded a 5-year grant from the U.S. Department of Education to fund the Trio Upward Bound Program at Hatch Valley High School. The program's primary objectives are to:
Improve Academic Performance
Improve Retention and Graduation rates
Increase Post-Secondary Enrollment rates
Increase Post-Secondary Completion rates
Apply for the TRIO Upward Bound Hatch Program Now
Make sure you have images or PDFs of the following documents available for upload prior to beginning your application:
Proof of Citizenship:

Birth Certificate, Certificate of Citizenship, U.S. Passport, or Permanent Resident Card

Proof of Income:


Most Recent IRS 1040 Income Tax Form, Proof of Social Security Income Benefits, or Proof of SNAP benefits

Most current transcript
Click on the link below to apply now.
TRIO Upward Bound Hatch Valley Public Schools
| | | | |
| --- | --- | --- | --- |
| Lourdes Ambriz | Program Director | (575) 646-1780 | |
| Kaylene Womack | Student Program Coordinator | (575) 646-1856 | |
| Patricia Vega | Administrative Assistant | (575) 646-1856 | |
| DeAna Lopez | HVHS Counselor  | (575) 267-8240 | |